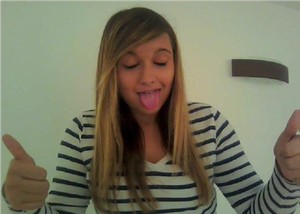 I'm 13 years old. I was born on April 26th in Carcassonne. I live in Sainte-Valiere. I'm in college Marcelin Albert. I'm in 4°5.
I have a little sister named Anabelle who is 9, I have go a cat, a dog and two fish.
I'm blonde and I have got brown eyes.
My favorite color is turquoise.
In Aude (south of France) there's the peak of Bugarach, people say that you can see UFOs. Other people (the Mayans) say it would be the only place where we will be protected if the world ends on December 21st.