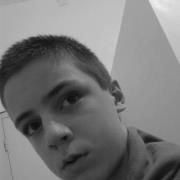 I'm 13. I live in France in Marcorignan. I've got one brother and one sister. I've got two dogs and one cat. My favorite hobby is playing the piano but I hate house chores.
My brother is Dylan and he's 18 and my sister is Morgane and she's 15.
In my country there is the soft eye « l'oeil doux » in French. It's a lake at the botttom of a cliff which is 14 meters deep. We can't swim in there because it is dangerous! Many people died there but they continue to jump from the cliff.