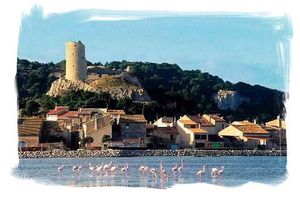 Gruissan is a town located in the South of France in the department of Aude in the Languedoc-Roussillon region. In this village there are 4543 inhabitants. Gruissan is now a seaside resort known both for its vineyards, and its legendary tower: La Tour Barberousse.
Indeed, this vestige of the Gruissan castle dates back to the 10th century and has been a listed monument since April 14th, 1948. Built on a steep rocky hill, this castle once served to monitor Narbonne and protect the city from sea invasions.
But in the 16th century, Richelieu ordered the destruction of the monuments and the castle was abandoned. Now Gruissan is built around the ruins of the castle. At the foot there is a church called "Notre-Dame de l'Assomption".
All these monuments are part of the old village from the Middle Ages. Gruissan is also known for its cottages that were made famous by Jean-Jacques Beineix film : 37°5 le matin. There is also a very nice marina with many shops and restaurants, and a bit further away is the theme park "Pirat'Park". We call that part of Gruissan "nouveau village"(the new village).